Hudu Banikoi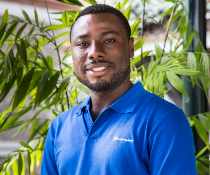 Zentrum für Marine Tropenökologie (ZMT)
Email:

Affiliated Ph.D. Fellow, Field A, Cohort 2021
Research Interests

Institutional Economics
Environmental and Resource Regimes
Institutional Change
Environmental & Resource Management
Human-Environment Interactions
Environmental Governance
Property Rights
Dissertation topic
Understanding institutional change in resource governance: the evolution of institutions for coastal resource co-management in Ghana
Dissertation abstract
Institutions are critical for the sustainable use and management of environmental and natural resources. However, the development or design of institutional arrangements for the sustainable governance of resources can become a challenge depending on the context. This is much so in the context of coastal resource management where uncertainties, interdependencies, power asymmetries, and institutional transaction costs are high. Institutional development for the co-management of coastal fisheries in Ghana has been ongoing since 1997 with little success. This is despite the existence of enabling conditions for the emergence of co-management institutional arrangements, as espoused in extant institutional analysis literature. This thesis examines the challenge of institutional development from the perspective of institutional theory. It does this by drawing from the diversity of theories of institutional change in institutional economics and using qualitative methods of data collection and analysis to understand why institutional design is difficult to achieve in the context of coastal resource governance in Ghana.
Academic Supervisors
Achim Schlüter
Marco Verweij