Anna Fejös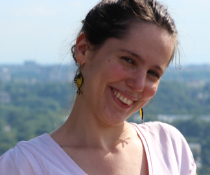 BIGSSS, Universität Bremen
Email:

Regular Ph.D. Fellow, Field B, Cohort 2014
Research Interests

Inequalities, Equality policy, diversity, social mobility, ethnic and racial minorities, gender, Roma, Central Eastern Europe
Dissertation topic
Professional Trajectories of Roma in Hungary - Claiming Space in Education, Business and the Arts
Dissertation abstract
Highly skilled members of ethnic and racial minorities encounter distinct opportunities and challenges throughout their professional trajectories, deriving from being double 'newcomers' at work. On the one hand, they are 'newcomers' in their professional roles. On the other hand, their presence is also a novelty in organizations. Professional trajectories intertwine with race and ethnicity in many ways, and individuals' minority belonging may bring advantages and disadvantages to their professional and personal lives. In this dissertation, I examined the professional trajectories of highly skilled Hungarian Roma in three contexts, education, corporate business, and visual arts. Adopting Bourdieu's relational approach and his concept of the 'field' and drawing on theories from social inclusion and diversity literature, I scrutinized how individuals negotiate their professional work and ethnic belonging, which are particular to the institutional arrangements and micro-organizational conditions of the three fields. My analysis based on in-depth qualitative methodology led to findings presented in three case studies (written in four journal articles) and a synthesis, in which I showed that professionals of Roma descent in Hungary have to navigate their professional trajectory and ethnic background throughout building their careers, developing professional and work- identities, and relating to their communities in each field. Individuals are actively valorizing their resources, however, the opportunities and barriers to 'claim space' in a given field depend on institutional arrangements and micro-organizational mechanisms that define the role of 'difference'. The experiences of highly skilled Roma are vital for the prospects of the next generations. Their career success may trigger 'multiplier effects', whereas their struggles, challenges, and dilemmas will continue to shadow the trajectories of new career entrants. The empirical results of this dissertation may enrich the existing body of research on ethnic and racial minority professionals by increasing knowledge on the Central Eastern European region and its largest minority group, the Roma. Meanwhile, by linking insights from social inclusion and diversity scholarship, the dissertation may contribute to a context-specific understanding of professional trajectories and the various dilemmas professionals of minority descent encounter.
Academic Supervisors
Olaf Groh-Samberg
Margrit E. Kaufmann