Rena Tecklenburg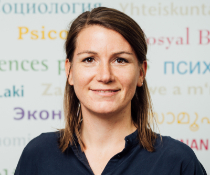 Universität Bremen, SOCIUM
Tel.: +49 421 218 66413

Email:

Unicom, Haus 7, Room: 7.310

Affiliated Ph.D. Fellow, Field B, Cohort 2018
Research Interests

Sociology of the Family
Intergenerational Value Transmission
Qualitative & Quantitative Research Methods
Dissertation topic
Intergenerational value transmission in bi-national families
Dissertation abstract
Bi-national families are likely to increase and to become more important in times of global mobility. They interlink values from different countries which may intesifiy the tension between culturally formed value preferences of the parents in comparison to families with the same cultural background. Notions in the respect of child-rearing may vary depending on which values they internalized in their respective formative years. The study explores how different cultural imprints affect the intergenerational value transmission by conducting qualitative family interviews - parents and their children separately - and an in-depth analysis of value preferences in Turkish-German families.
Academic Supervisors
Mandy Boehnke
Klaus Boehnke
Helen Baykara-Krumme