Gender and Peacekeeping Workshop › view all
30.01.2019
BIGSSS PhD Fellow Janosch Kullenberg Contributes to Policy Recommendations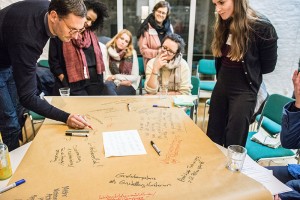 Last week, BIGSSS PhD fellow Janosch Kullenberg presented a paper at a workshop on gender and peacekeeping jointly organized by the German Association for the United Nations (DGVN) and the "grassroots think tank" Polis 180.
In his presentation, Janosch analyzed overlapping UN policy agendas and their consequences for the provision of protection against conflict-related sexual violence. Two other presentations by a gender-trainer (Nicola Popovic) and former captain of the German armed Forces (Marie Kemnitz) were about prevention of sexual violence and abuse inside the UN and gender and sexual violence in the force.
Subsequently, participants discussed the topics and formulated policy recommendations which will be reworked and forwarded to the Foreign Ministry (AA) as Germany is co-heading (with Peru) the UN Security Council's Work on "Women, Peace and Security" during the next two years.
In addition, Janosch will submit his academic paper as part of a special issue on "the Politics of Interventions against (Conflict-Related) Sexual and Gender-Based Violence" in the Journal of Intervention and Statebuilding organized by InIIS colleague Alex Veit.