Stefan Wallaschek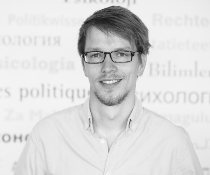 BIGSSS, Universität Bremen
Tel.: +49 421 218 66421

Email:

n. V.: Unicom 1, Haus 9, Room: 9.4090

Regular Ph.D. Fellow, Field A, Cohort 2014
Research Interests

Theories of Solidarity
Political Communication
European Politics
Migration and Refugee Studies
Discourse Network Analysis
Contemporary Political Theory
PhD project description:
Solidarity is one of the contested claims in public debates about the 'Eurozone crisis' and the dealing of the EU member states with refugees at the European borders. Astonishingly, solidarity has hardly been examined in the social sciences. In my PhD project I will take a closer look at solidarity and my main question is: Which conflicts between actors regarding their meanings and justifications of solidarity can be identified in the political and media arena in Ireland and Germany? If we understand politics as a mode of different interpretation about political problems and solutions, we have to consider the relevance of ideas on solidarity in this process. Therefore I examine the contested history of solidarity as well as the different meanings of solidarity, named as "patterns of solidarity". My empirical investigation of these patterns will take place in the public discourse (parliamentary and media arena). For Germany and Ireland, I will analyze two debates, the economic crisis in the 'eurozone' and the refugee and asylum crisis in the European Union (EU) from 2010 to 2015. In both topics, solidarity is an important claim about the support for other EU member states in times of crisis or the help for refugees while they try to cross the Mediterranean. With a discourse network analysis I can shed light on the numerous ideas on solidarity and the actors who act in favor of solidary action or refuse to act in solidarity.
Dissertation topic
The Politics of Solidarity: Comparing the Eurozone Crisis and the Refugee Crisis (working title)
Academic Supervisors
Ulrike Liebert
Sebastian Haunss