Simon Tunderman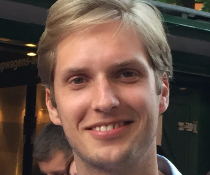 BIGSSS, Universität Bremen
Tel.: +49 421 218 66402

Email:

Unicom 1, Haus 9, Room: 9.4160

Regular Ph.D. Fellow, Field A, Cohort 2015
Research Interests
Global Political Economy
Post-structuralist discourse theory
Science and Technology Studies
Dissertation topic
The working title of my dissertation is 'Hegemony and the Political Economy of Biotechnological Innovation'. I am interested in the emergence of different political projects that aim at establishing a 'bioeconomy' in Europe. In particular, my dissertation will deal with the question how these bioeconomy projects succeed in changing the relationship between science, nature, and economy.
Academic Supervisors
Martin Nonhoff