Eva Johais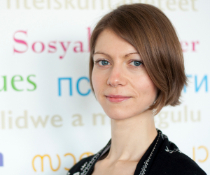 BIGSSS, Universität Bremen
Tel.: +49 421 218 66401

Email:

Unicom 1, Haus 9, Room: 9.4160

Regular Ph.D. Fellow, Field A, Cohort 2015
Research Interests
Electoral assistance
Global political ethnography
Interpretive policy analysis
Intervention research
Practice theory
Statebuilding and state-formation


Dissertation topic
The policy of Electoral Assistance
Dissertation abstract
The PhD thesis studies the why and how of the global policy of Electoral Assistance. Within the framework of the research, policy is understood as a relation between discourse and everyday practice, not as a linear process. Methodologically, an interpretive ethnographic approach is adopted because this is particularly well-suited to investigate this relation in an unexplored field and to make modes of operation visible. First of all, the project joins the body of work on the anthropology of global policies. Further, it relates to the anthropology of assistance, intervention studies and the anthropology of democracy and elections in the non-West. Thus, the thesis seeks to contribute to knowledge in different strands of research, but also to advance the debate on the use of ethnography in Political Science and International Relations.
Academic Supervisors
Klaus Schlichte
Sebastian Botzem
Finn Stepputat