Adio-Adet Tichafara Dinika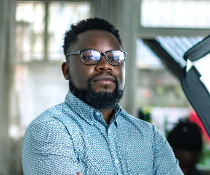 Universität Bremen, Zentrum für Arbeit und Politik (zap)
Email:

Universität Bremen, Room: 1050

Affiliated Ph.D. Fellow, Field A, Cohort 2021
Research Interests

Future of Work
Digitalisation
Digital Labour Markets
Digital Economy
Decent Work
Platform governance
Dissertation topic
Towards inclusive and decent work in the Future Of Work in sub-Saharan Africa: A critical analysis of Digitalisation, Youth Preparedness and precarity in the platform economy.
Dissertation abstract
The thesis is a cumulative one, comprising three papers. It explores the impact of digitalization on the Future of Work in Sub-Saharan Africa, with a particular focus on the challenges and opportunities for the region's socio-economic development. The thesis begins from a position of acknowledging the widespread optimism around digitalization of work in Sub-Saharan Africa and sets out to question if the optimism is justified and how potential challenges can be addressed. The study selected Zimbabwe, South Africa, and Rwanda as case studies to provide a diverse representation of Sub-Saharan African countries with different levels of digital development, economic contexts, and political environments. Zimbabwe represents a country facing significant economic challenges, while South Africa has a more developed digital ecosystem and Rwanda is an emerging digital hub in the region. By examining these three countries, the aim is to capture a range of experiences and perspectives on the impact of digitalisation in the region. The first paper examines the potential of digitalization of work as a panacea for addressing the socio-economic challenges facing the region, with a special focus on employment, inequality, and poverty. The second paper builds upon the impact of digitalization on the labour market and the need for skills necessary for African youth to succeed in the labour market. It sets out to investigate their preparedness and the various ways in which African governments and other stakeholders are addressing this, with a case study of Rwanda. The third paper analyses the emergence of precarity in the platform economy using a Marxist and Nkrumahian lens to critically evaluate the implications for decent work for African youth. Through this interdisciplinary research, the thesis contributes to ongoing discourse on digitalisation/platformisation and the Future of Work in Sub-Saharan Africa, highlighting the need for policies that critically examine technological developments, particularly where labour is concerned, to maximize the welfare of workers and society in general. The findings are of paramount importance to academics, practitioners, and policymakers whose work interacts with the themes of labour, technology, and development. These findings are important not just to Africa but also to other parts of the world, especially considering the globalization of labour and demographic realities of aging populations in Asia, North America, and Europe juxtaposed with bulging youth population in Sub-Saharan Africa.
Academic Supervisors
Klaus Schlichte
Jakob Fruchtmann